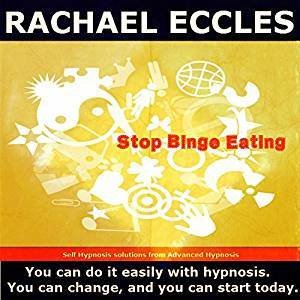 Stop Binge Eating, Hypnotherapy, Self Hypnosis CD by Rachael Eccles
SKU 00139CD
Product Details
Are you a secret binge eater?
Do you want to escape the shame and guilt you put yourself through?
Do you want to take control of food?

This self hypnosis CD will guide you into a deeply relaxed state where your subconscious mind becomes more receptive to suggestion. The positive suggestions can help to make it easy for you to break the cycle of binge eating and free yourself from the negative feelings you get once you feel bloated and over full. This is a self esteem issue as well as a habit, and this recording can help to change your focus and direction and get you feeling more in control of food.

Do you want to eat in moderation regardless of how you feel emotionally?
Do you want to lose weight and/or establish a healthy relationship with food?

Listen to the CD every day if possible for 30 days, even if you notice instant improvements, keep listening as this will reinforce the suggestions and make the effects more powerful and lasting. Imagine the boost to your confidence once you have overcome this compulsion.
Includes three tracks

Save this product for later