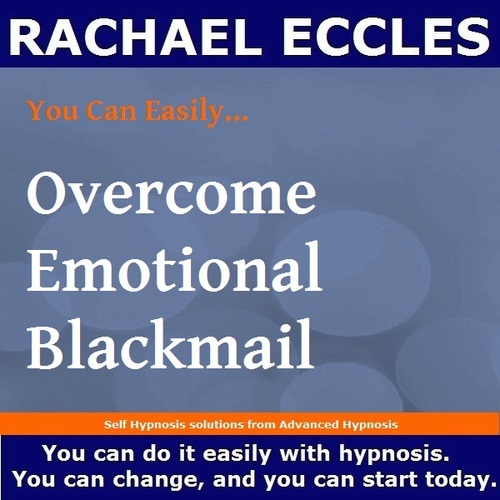 Overcome Emotional Blackmail & Manipulation Hypnotherapy Hypnosis Download or CD
SKU 00185
Product Details
HYPNOSIS FOR RESISTING & MANAGING EMOTIONAL BLACKMAIL & MANIPULATION

If certain people are trying to emotionally blackmail you and you are looking for a way to change your reactions, then this hypnosis download or CD is for you. The Overcome Emotional Blackmail Hypnosis can help to develop in you:

★ A powerful sense of inner strength and control
★ Enhanced vigilance to any signs of emotional blackmail or manipulation
★ Fast results

Hypnosis works through influencing your subconscious mind, eradicating unhelpful feelings and thoughts that have been holding you back. Hypnotherapy is effective in programming your mind to change and this hypnosis will eliminate weakness and old habit reactions, making it easier for you to not give in to peoples demands, easier to say "no" and to feel comfortable doing that.

Includes 3 hypnosis sessions to choose from:

1. Emotional Blackmail, Listen & Wake Hypnosis
2. Emotional Blackmail, Lite-Speed Mini Hypnosis
3. Emotional Blackmail, Bedtime Hypnosis

The Listen and wake track will guide you into a deeply relaxed and receptive state, where you absorb the hypnotic suggestions for becoming more in control of your life and your choices and able to feel comfortable being assertive with people who try to control you. Use this session if you want to feel refreshed and alert afterwards. The Lite-Speed track is a 5-minute booster, ideal if you don't have time for the full session and perfect for use shortly before the occasion.
The Bedtime hypnosis is similar to track 1 except it guides you to sleep as it ends, making it ideal to use when you go to bed.

Do not use while driving, operating machinery. If you have epilepsy, schizophrenia or a heart condition, consult a physician before use.
Save this product for later